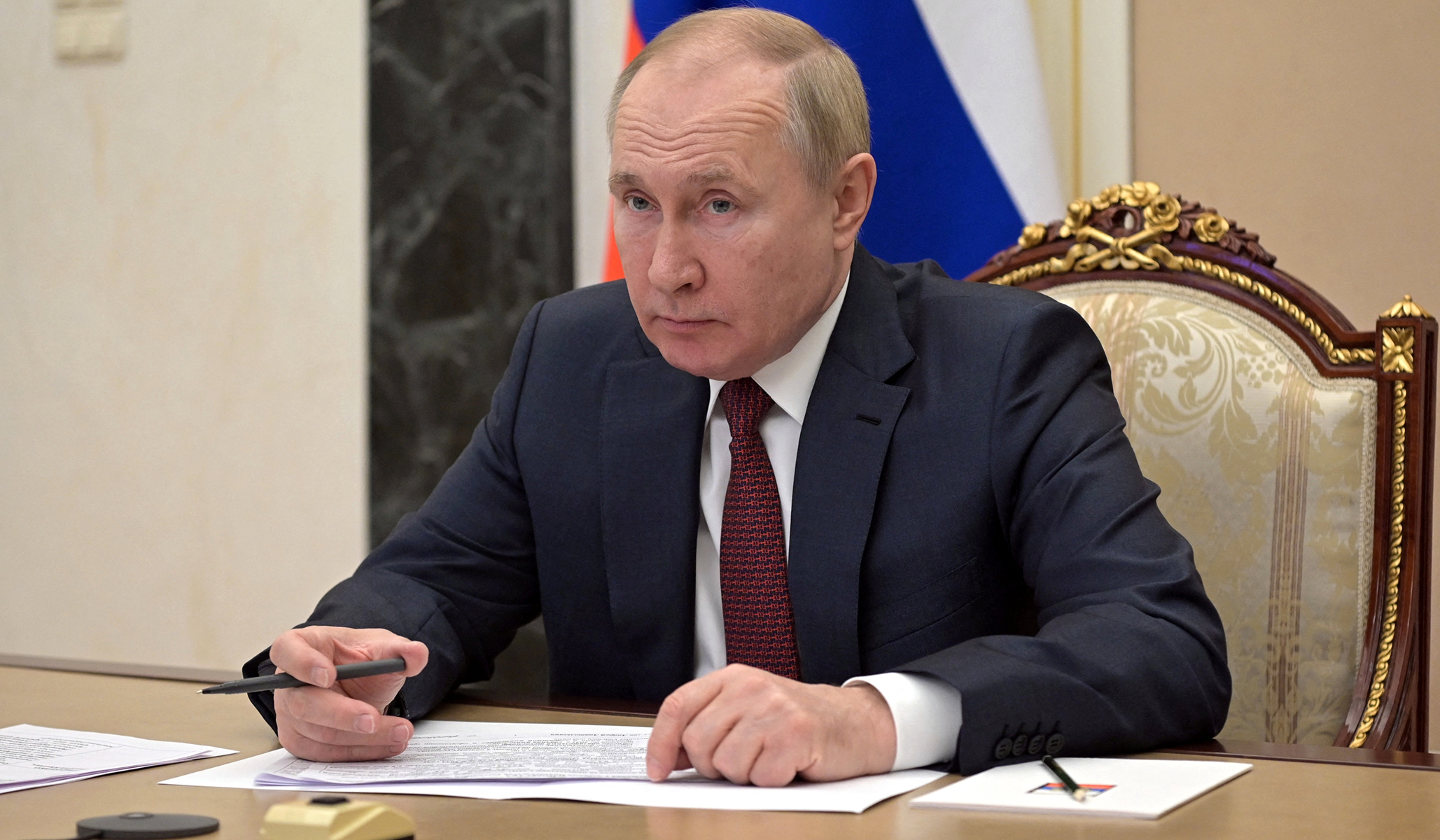 Russian president Vladimir Putin, with his decision to sign orders recognizing the independence of two Ukrainian breakaway territories backed by Moscow, has set in motion a sequence of actions likely ramping up to a full-out military assault on Ukraine.
After yesterday's signing at the Kremlin, however, Moscow left one thing ambiguous: whether those orders recognized the pro-Moscow governments' claims over territory that is still held by Ukraine. The Donetsk and Luhansk Oblasts are more expansive than the territory currently held by the secessionist groups, which call themselves, respectively, the Donetsk and Luhansk People's Republics (DNR and LNR). If Russia were to recognize all of the territory they claim, that would set the stage for a Russian military assault on parts of Ukraine Moscow did not attack during the war it initiated in 2014 — parts of Ukraine that are home to hundreds of thousands of people and the city of Mariupol.
Today, during a briefing with reporters, Kremlin spokesman Dmitri Peskov said that the Kremlin-recognized territory encompasses, "the borders that they have proclaimed themselves," according to Meduza, an independent Russian outlet:
Just look at this insanity. Putin's press secretary refuses to clarify if his boss has endorsed a policy that would mean invading Ukrainian cities now home to hundreds of thousands of people. https://t.co/L46RNtZ73j pic.twitter.com/3emrOYaWrw

— Kevin Rothrock (@KevinRothrock) February 22, 2022
Pressed on this, Peskov declined to specify whether that would include Mariupol, a city of just under 500,000 residents. Nevertheless, by saying Kremlin recognition overlaps with the DNR and LNR claims, he seemed to be saying that Moscow does recognize its claims to the city. If that is the case, the recognition orders could be the proximate Russian justification for a military assault on the parts of Ukraine that remained under Kyiv's control after the 2014 Russian invasion.
After signing the recognition orders, Putin ordered a Russian "peacekeeping" mission into the two breakaway regions, though there's no indication yet that those forces have attempted to enter parts of Ukraine that had not been invaded in 2014.
Washington has previously promised to coordinate a "massive" sanctions response to a Russian invasion. A senior administration official said that the administration would continue to analyze the available information before deciding whether the latest Russian move counts as an invasion that would trigger that sort of response. Separate from that, the Biden administration announced sanctions targeting the "so-called 'Donetsk and Luhansk People's Republics,'" and the official, speaking with reporters last night, said that further economic sanctions responding to the recognition orders would be announced tomorrow.