Twenty-eight athletes from Thunder Basin High School and 14 from Campbell County will represent Gillette at the Class 4A state wrestling tournament this weekend in Casper.
Wrestlers had to finish inside the top 8 of their respective weight divisions at the Class 4A East regional tournament in Sheridan in order to qualify for state.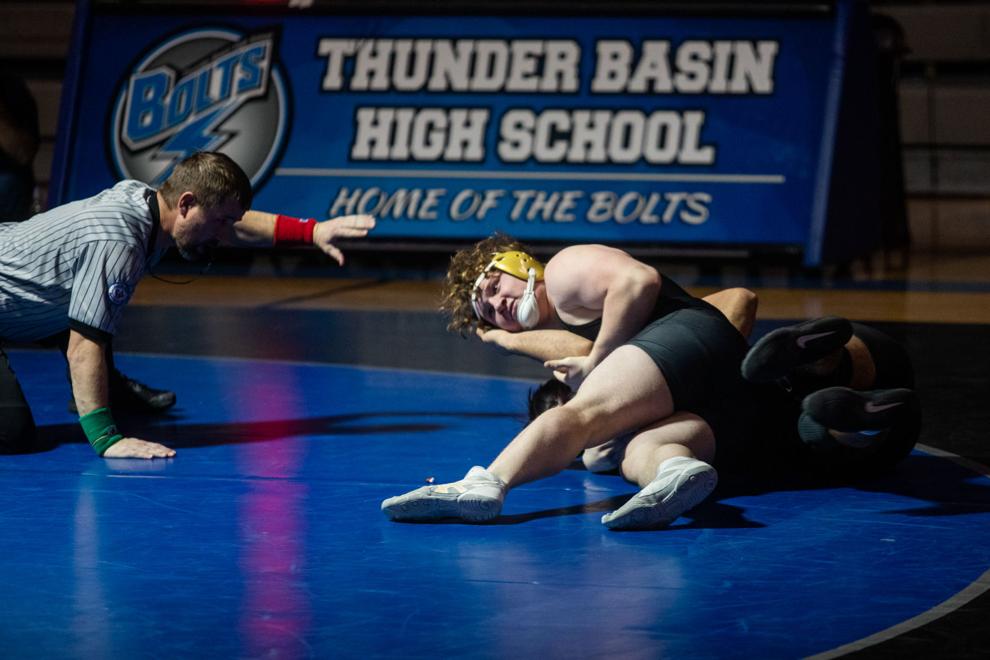 For Thunder Basin, state-qualifiers include Blaize Burrow (113 pounds), Iven Wold (113), Lance Streifel (120), Ashton Leegaard (120), Antonio Avila (126), Omar Bautista (126), Alex Draper (132), Peyton Alexander (132), Zabian Cowley (138), Jais Rose (138), Cael Porter (145), Lukus Maxwell (145), Saber Sessions (152), Mason Brown (152), Deyton Johnson (160), Cort Catlin (170), Brayden Clifford (170), Garrett Toohey (182), Aden Jorgensen (182), Dillon Glick (195), Jaxson Viergets (195), Aidyn Mitchell (220), Lane Catlin (285) and Dylan Skillings (285).
Campbell County's state-qualifiers are Fischer Smith (106), Tayce Lake (106), Colt Welsh (113), Logan Johnson (132), Lucas Hill (132), Andrew Garcia (138), Jayson Harmon (145), Hunter Henderson (152), Logan Ketterling (152), Wade Garrett (170), Cohen Granzer (182), Kendall McKee (182), Garrett Saunders (220) and Sheldon Rollo (220).
Bolts coming off regional title
Thunder Basin will have plenty of momentum going into the state tournament after winning the East regional tournament this weekend in Sheridan. The Bolts won the tournament with a team score of 252.
Thunder Basin beat Sheridan by 2.5 points. The Broncs finished second with a score of 249.5, followed by Cheyenne East (218), Cheyenne Central (160), Campbell County (59) and Cheyenne South (23).
In addition to the team title, the Bolts had five wrestlers win individual titles at regionals. Avila, Porter, Jorgensen, Mitchell and Lane Catlin all finished first in their brackets.
The regional title was an exciting accomplishment for Thunder Basin, but it was never the main goal. The Bolts are shooting for the school's first wrestling title in school history.
"We can't overlook anyone and we can't just be OK with a regional title," TBHS coach Mikah Kadera said. "It definitely helped build our confidence and we need to continue to build off of that because we did so well.
"Now we have to just get into practice and change some things. If we make those changes and come out and battle next weekend we will put ourselves in a great position."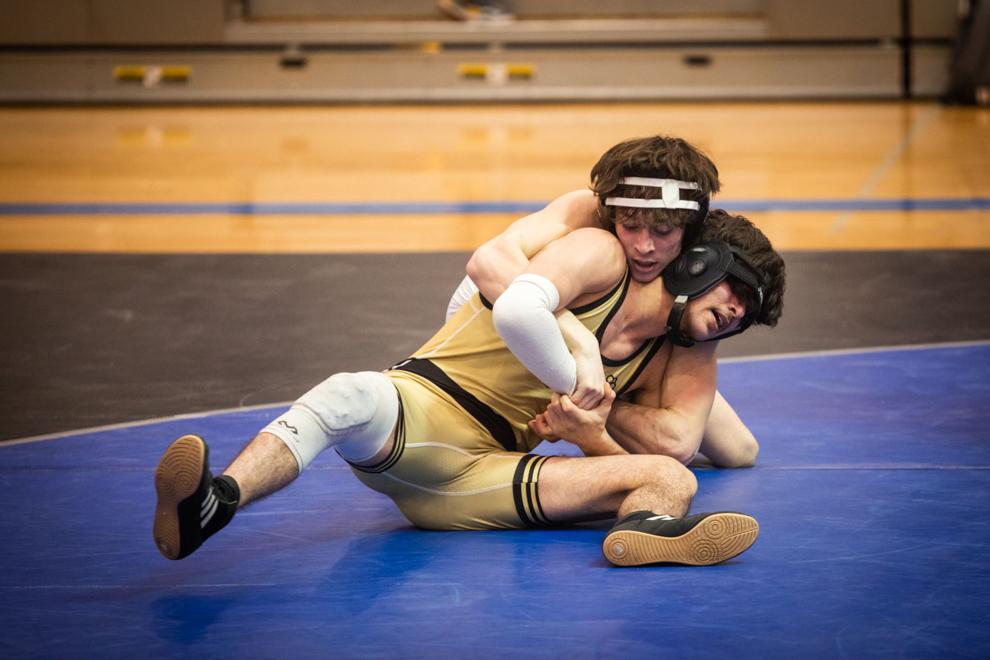 Eighteen of the Bolts' 24 state-qualifiers will go into the state brackets seeded. In order to be seeded, wrestlers had to finish in the top 4 at regionals. Wrestlers who didn't finish in the top 4 but still qualified for state were randomly drawn into matchups against the seeded qualifiers, Kadera said.
On top of the five regional champions, 13 more Bolts are seeded for the state tournament. Leegaard, Draper, Johnson and Glick all finished second at regionals, Streifel, Rose, Sessions, Cort Catlin, Toohey and Skillings finished third and Maxwell, Brown and Viergets finished fourth.
Cowley finished fifth, Wold, Bautista and Alexander finished sixth, Clifford finished seventh and Burrow finished eighth at regionals.
Aside from winning a team title, the Bolts want to finish with as many state-placers as possible. Wrestlers that finish in the top 6 of their weight class place at state, Kadera said.
"Our guys have worked all season for this and state is where their goals are," Kadera said. "It's important that they don't clam up and that they deal with their nerves properly. But it's good going into it knowing that we can go and beat anyone in our region because that brings us confidence."
Thunder Basin's main competition in the team standings will likely be Sheridan and the defending champions of Natrona County. The Bolts have seen both teams throughout the regular season and will look to peak at the right time during this weekend's two-day state tournament.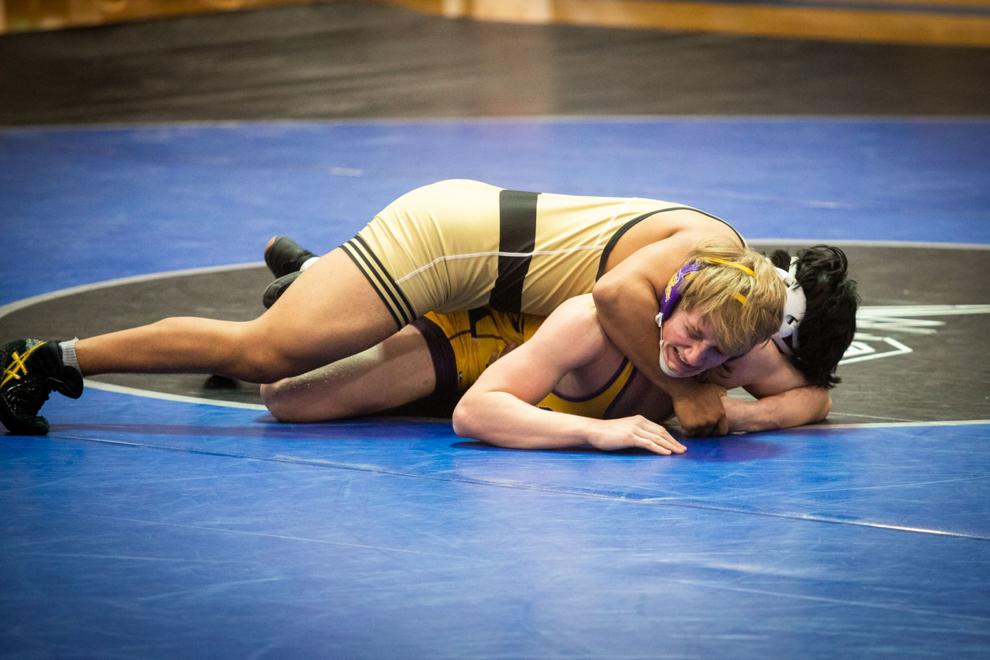 Camels aim for top individual finishes
Campbell County isn't traveling to Casper with much hope for winning a team title. With just 14 state qualifiers, bringing home a team championship would be almost statistically impossible.
But the Camels do have high hopes in terms of placing as many wrestlers as possible.
Three Camels will be seeded in the state tournament. Lake, Welsh and Hill all finished fourth at regionals in Sheridan. The regional tournament was Lake's first tournament since the Pat Weede Memorial in December, CCHS coach Clay Rodgers said.
At regionals, Smith, Keterling and Granzer finished fifth, Garcia, Henderson, KcKee and Saunders finished sixth, Rollo finished seventh and Johnson, Harmon and Garrett finished eighth.
The team will be without standout Darron Provost whose season ended with an injury, Rodgers said.
Another setback for the Camels' team score will be having multiple wrestlers qualified in the same weight class. Only one athlete can contribute team points in each weight class, Rodgers said.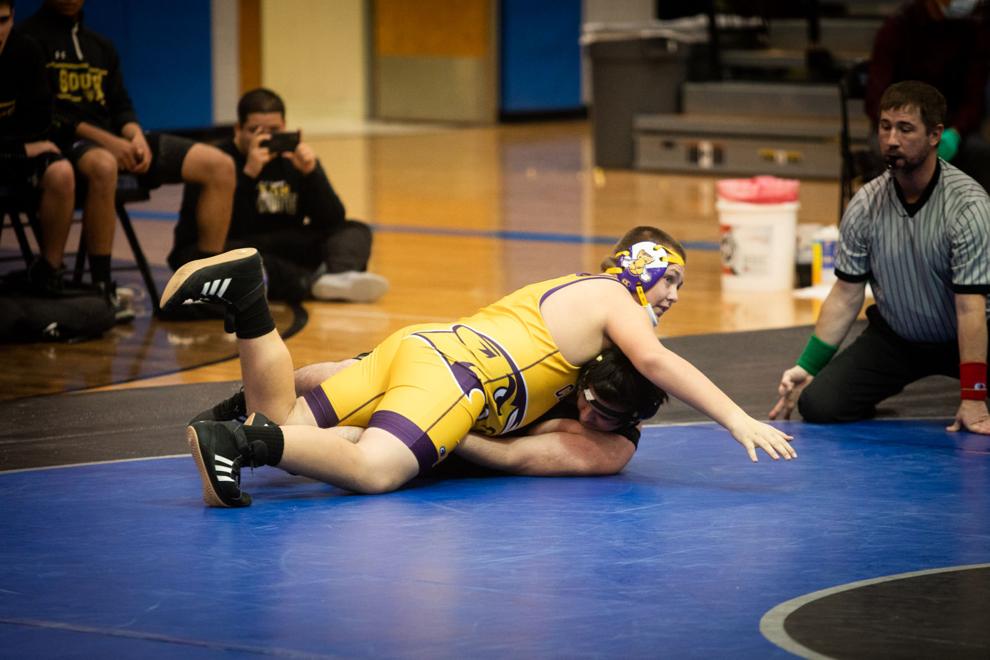 Each weight class features 16 wrestlers, including eight from the East and eight from the West. For the first time since 2020, the tournament will feature all three classes wrestling simultaneously. Nine mats will be set up and Class 2A, 3A and 4A will all wrestle on three mats each between Friday and Saturday.
"We just want to go out and get motivated and win as many matches as they can," Rodgers said.
Matches will begin at 9 a.m. Friday and will continue all day Saturday at the Ford Wyoming Center in Casper.
For state wrestling results, visit gillettenewsrecord.com or follow Sports Editor Alex Taylor on Twitter @alex_m_taylor22.